Overview
It shouldn't hurt to get to your feet in the morning or walk throughout your day, but if your steps result in stabbing or aching pain in one or both heels, you may be suffering from heel spurs. Also known as calcaneal spurs or osteophytes, heel spurs are pointed, hooked or shelf-shaped calcium build-
ups
on the heel bone (calcaneus). While the spurs, themselves, do not sense pain, their tendency to prod the soft, fatty tissues of the heel can result in severe discomfort with every step you take. This article will teach you what you need to know about heel spurs so that you can understand your symptoms and find fast relief from your pain.
Causes
Over-pronation (
flat
feet) is a common cause of heel spurs, but people with unusually high arches (
pes
cavus) can also develop heel spurs. Women have a significantly higher incidence of heel spurs due to the types of footwear often worn on a regular basis.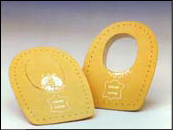 Symptoms
With heel spurs, people often talk about a dull ache which is felt most of the time with episodes of a
sharp
pain in the center of the heel or on the inside margin of the heel. Often the pain is worse on first rising in the morning and after rest and is aggravated by prolonged weight bearing and thin-soled shoes.
Diagnosis
Your doctor will discuss your medical history and will examine your foot and heel for any deformities and inflammation (swelling, redness, heat, pain). He/she will analyze your flexibility, stability, and gait (the way you walk). Occasionally an
x-ray
or blood tests (to rule out diseases or infections) may be requested.
Non Surgical Treatment
The majority of heel spurs are treated with non-surgical interventions. These can relieve pain, but may take from about 3 months to up to a year for symptoms to resolve. Rest, icing, and over-the-counter anti-inflammatory or prescription medications can help ease symptoms. Cortisone injections may also be used. Physical therapists may instruct you to perform stretching exercises to help relax the tissues in the heel. Your doctor may recommend custom orthotics or shoe inserts to position and cushion your heel. Night splints can help position the heel and arch of the foot while you sleep. Some doctors may recommend extracorporeal shock wave therapy (ESWT). This treatment uses energy pulses to start the repair process in the heel tissues. ESWT is recommend when other non-surgical treatments have failed.
Surgical Treatment
Have surgery if no other treatments work. Before performing surgery, doctors usually give home treatments and improved footwear about a year to work. When nothing else eases the pain, here's what you need to know about surgical options. Instep plantar fasciotomy. Doctors remove part of the plantar fascia to ease pressure on the nerves in your foot. Endoscopy. This surgery performs the same function as an instep plantar fasciotomy but uses smaller incisions so that you'll heal faster. However, endoscopy has a higher rate of nerve damage, so consider this before you opt for this option. Be prepared to wear a below-the-knee walking cast to ease the pain of surgery and to speed the healing process. These casts, or "boots," usually work better than crutches to speed up your recovery time.
Prevention
In 2002, researchers attempted to compare the effects of various running techniques on pronation and resulting injuries like stress fractures and heel spurs. They suggested that it is possible to teach runners to stride in such a way as to minimize impact forces. One way is to lower running speed. Another is to take longer rest periods following a run.